In the old days we would have a checkbox on our shipping form if you wanted to round up any partial boxes before shipment. Now things are quite a bit different.
If you want to round up before shipment you'll have to plan ahead...
Now you do that from the INVENTORY screen with the BUY button. (If the button is greyed out that means we are unable to allow customers to buy up that caliber due to backorder status). Once you click on the BUY button you'll see a screen like this: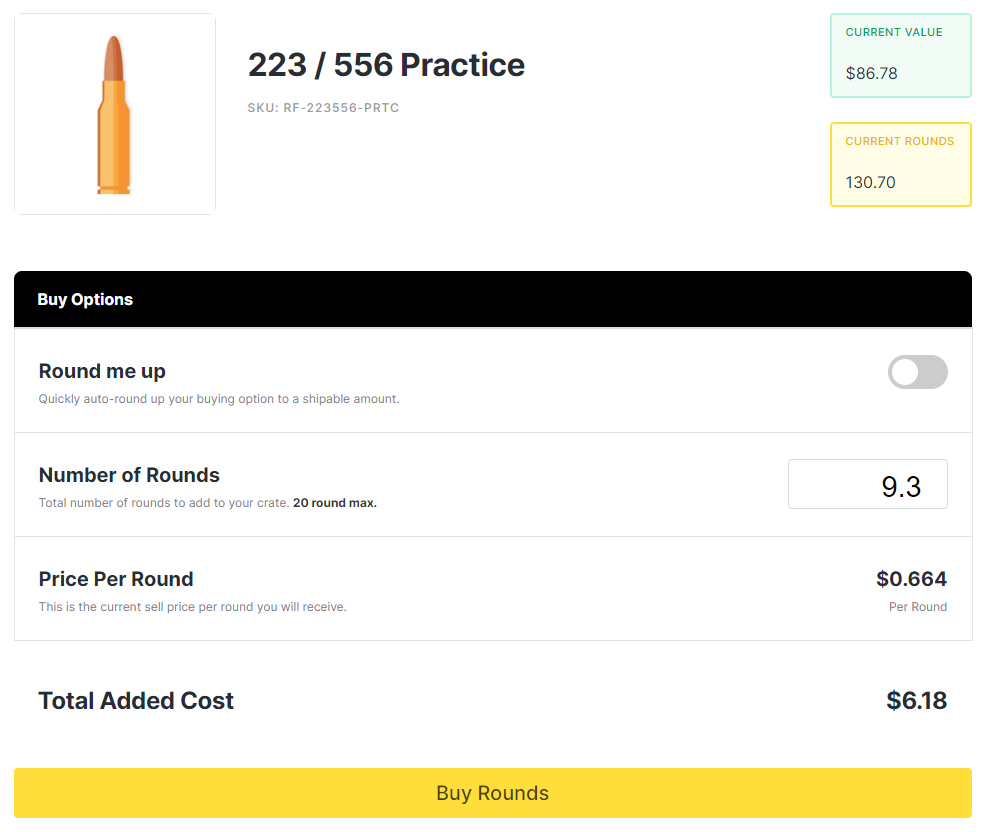 In this example I have 130.70 rounds of 223/556 Practice available in my INVENTORY. For buying up I have two options: I can automatically round up the nearest box by using the toggle or I can enter a number in the box.
The toggle is there so you don't have to do the math. If you want to round up to the next box just hit that switch and it will calculate the rounds you need to round you up to the nearest box size. If you were planning on rounding up just before shipping then you would hit this button and click the big yellow Buy Rounds button.
The other option is the entry box below the toggle. Currently we have our maximum buy up amounts set for box size. In this case, the most you could buy up would be one additional box of 223/556 - 20 rounds. This of course would give you 150.7 rounds so you would still have some leftover if you ship. In the future as the ammo supply situation returns to normal you will be able to buy more than one box - so if you had extra money or credit and wanted to add 200 or 500 rounds to your inventory, you would do it here.
In either case, once you hit the Buy Rounds button, your ammo is NOT immediately added to your inventory. It is added to your queue and allocated according to our inventory allocation schedule, which for non-backorder items is once every 24 hours, but could be longer.
If you are planning on rounding up before a shipment, make sure to give yourself a few days for your rounds to settle into your Inventory before requesting shipment. You will get an email when rounds are added to your inventory.