Your "Crate" is a combination of multiple things: your Subscription, Inventory and Backordered Inventory (now called your "Queue"). When you cancel a crate you are actually cancelling all of those things.
There are few reasons why you would actually need to delete a crate. Instead you can change the budget, add calibers, remove calibers and even name the crate something else instead of deleting it. You can even set up multiple crates for different reasons, like a hunting ammo crate or a practice ammo crate or one for a different type of gun - your imagination is the limit. You can also simply PAUSE a crate if you don't want it to run for an extended period of time as well.
Right now our system won't allow you to delete a crate that has inventory or subscription items in it. You'll need to sell the inventory first then delete the calibers from the Subscription Details page. It will, however let you cancel a crate that just has backordered inventory, or inventory "in Queue" and you will receive a credit on your account for that unallocated inventory.
If you do need to cancel a crate however, the process is relatively simple. Just navigate to the Crate you want to remove. Select the Subscription tab and scroll to the bottom. You'll see "Delete":
You should receive a warning popup with the amount that will be refunded as a credit to your account if you have any queued ammo. Once you click that confirmation button your account will be immediately be deleted and you will receive a credit for any remaining queued ammo. This action is permanent, so use it wisely.
Special Note: If you get this popup...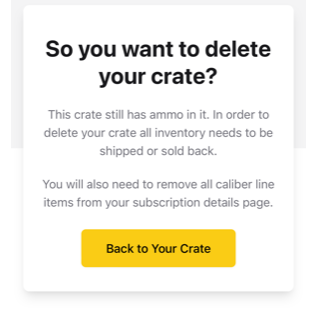 ... go back and remove each caliber from your subscription using the red "X" on right side of the screen. If you are on a mobile phone, you may need to scroll to the right to see it.
If you want to leave AmmoSquared completely, you'll need to request a Cash Out Refund.